2015 Inductee
The Honorable Dr. John Hillen, Duke '88
Dr. John Hillen attended Duke University from 1984-1988 where he was a double major in public policy studies and history.  He participated in Duke's Army ROTC all four years, was the Commander of the Cadet Ranger Company, Cadet Battalion S-3, and in 1988 he was named a Distinguished Military Graduate and received his commission as an Armor Officer into the Active Army.   He was also awarded a Fulbright scholarship soon after graduating.
Following graduation he served in the 2nd Armored Cavalry Regiment in Germany & during Operation Desert Storm as a tank platoon leader, scout platoon leader, squadron assistant operations officer, and squadron adjutant.  His cavalry troop was patrolling the border between East & West Germany in November 1989 when the Iron Curtain fell.   In Operation Desert Storm his unit fought in the Battle of the 73 Easting, and he received a Bronze Star for his actions in combat.  After four years on active duty, Hillen branch transferred to Civil Affairs.   He served for several years as a reservist in an airborne Civil Affairs battalion and was ordered to Active Duty on several occasions in support of the 82nd Airborne Division and 5th Special Forces Group.
In 1992 he attended King's College in London where he received a Master's Degree in War Studies under Professor Sir Lawrence Freedman.   In 1993, he attended Oxford and was awarded his doctorate in International Relations in 1997.  Following graduation, Dr. Hillen held public policy fellowships at several think tanks, including the Council on Foreign Relations, The Heritage Foundation, and the Center for Strategic & International Studies.   He was for many years a contributing editor at National Review and was frequently seen on TV as an ABC News commentator from 2001 to 2005.
In 2000, Dr. Hillen launched a business career – becoming the Chief Operating Officer of Island ECN, Inc., a $500M+ financial services firm in New York City and earning his MBA from Cornell University.  Returning to Washington DC and the defense field after witnessing the terrorist attacks of 9/11 while in downtown New York City, Hillen served as the head of the $415 million defense and intelligence business at American Management Systems Inc. and was also the first President of Fairfax VA based CGI Federal Inc., now a $1.5 billion firm.
From 2005 to 2007, Dr. Hillen served as the Assistant Secretary of State for Political-Military Affairs in the Bush administration. He pioneered the Gulf Security dialogue, the framework for allied cooperation in the Gulf region of the Middle East, and his work standing up the US's whole-of-government Counterinsurgency capability and strategy was profiled in the Wall Street Journal.
From 2008 to 2013, Dr. Hillen was the President and Chief Executive Officer of Sotera Defense Solutions, Inc., formerly Global Defense Technology & Systems, Inc., and a member of its Board of Directors.   He remains the Vice Chair of Sotera's advisory board.
Dr. Hillen currently serves as the Executive-in-Residence and Professor of Practice at George Mason University's School of Business.  He also is an operating partner at private equity firm LLR Partners, serves on half a dozen corporate Boards in multiple sectors, and is the Executive Chairman of National Review, a leading journal of political commentary.  He currently serves on the Chief of Naval Operations Executive Panel, the federal advisory committee supporting the head of the US Navy. Dr. Hillen is a trustee of the International Institute for Strategic Studies, the Foreign Policy Research Institute, and Hampden-Sydney College.
2016 Inductee
Dr. Mark P. Pallis '92
Colonel Mark P. Pallis is a native of Branchville, New Jersey. A Distinguished Military Graduate, Colonel Pallis earned his commission from Duke University in 1992. Colonel Pallis holds a Bachelor of Arts Degree in Political Science from Duke University and a Doctor of Osteopathic Medicine degree from the University of Medicine and Dentistry of New Jersey. He completed a Transitional Internship at Walter Reed Army Medical Center, an Orthopaedic Surgery residency at Tripler Army Medical Center, and the John A. Feagin, Jr. Orthopaedic Sports Medicine Fellowship at West Point. He is board certified in Orthopaedic Surgery and holds a sub-specialty certificate in Orthopaedic Sports Medicine. He is a Fellow of the American Academy of Orthopaedic Surgeons and a graduate of the US Army Command and General Staff College.
Colonel Pallis has served in both clinical and operational leadership roles. After completing residency training, he served as a staff orthopaedic surgeon, then Orthopaedic Clinic Chief, then Orthopaedic Service Chief and finally, Chief, Department of Surgery at Blanchfield Army Community Hospital, Fort Campbell, KY. He has served as Chief of Orthopaedic Surgery, Chairman, Department of Orthopaedic Surgery and Deputy Commander for Clinical Services at William Beaumont Army Medical Center. He holds the title of Associate Professor of Surgery at both the Uniformed Services University of the Health Sciences and Texas Technical University, as well as Associate Professor at Baylor University Graduate School. He currently serves as the Orthopaedic Surgery Consultant to the U.S. Army Surgeon General and is responsible for over 250 Army orthopaedic surgeons and residents worldwide.
His operational assignments include Battalion Surgeon, 2nd BN, 3rd Special Forces Group (ABN) at Fort Bragg, NC and Group Surgeon, 5th Special Forces Group (ABN) at Fort Campbell, KY. He has deployed 6 times to combat in support of the Global War on Terrorism and has performed trauma surgery and cared for wounded Soldiers at every level in the evacuation chain from point of injury to the continental US.
In 2011, he completed the prestigious American Academy of Orthopaedic Surgeons (AAOS) Leadership Fellows Program. He currently serves as the U.S. Army Delegate to the AAOS Board of Councilors. He also serves on the Board of Directors for the Society of Military Orthopaedic Surgeons and on committees in several national associations. He is a scientific reviewer for three peer-reviewed journals. He has authored multiple peer-reviewed publications and has presented his research at national and international venues.
   His awards include the Bronze Star Medal with one Oak Leaf Clover (OLC), the Defense Meritorious Service Medal with one OLC, the Meritorious Service Medal  with  OLC, the Air Medal, the Joint Service Commendation Medal with one OLC, the Army Commendation Medal with two OLC, the Army Achievement Medal with two OLC, the Army Superior Unit Award with one OLC, the National Defense Service Medal with one Service Star, the Afghanistan Campaign Medal, the Iraq Campaign Medal, the Global War on Terrorism (GWOT) Expeditionary and Service Medals, and the Military Outstanding Volunteer Service Medal. He has earned the Combat Medical badge, the Expert Field Medical Badge, the Senior Flight Surgeon Badge, the Senior Parachutist Badge, the Pathfinder Badge, the Scuba Badge and both Australian and Canadian Parachutist Badges. He holds the Surgeon General's "A" Proficiency Designator and is a member of the Order of Military Medical Merit.
2017 Inductee
Dr. Walter L. Christman '83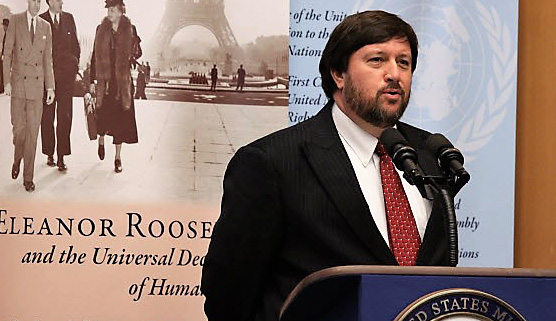 Walter L. Christman earned his commission from Duke University as an Army Reserve Officer in 1983. He is a pioneer in the global adoption of new cooperative ventures in international collaboration to enable enhanced regional and global security. He is the principal architect of seven Secretary of Defense initiatives, three of which were endorsed by a President of the United States.
Dr. Christman is President of Global Strategic Analysis, LLC, a forward-thinking professional services firm headquartered in San Luis Obispo, California offering confidential analytic support and creative services to world-wide clients who seek to foster innovative solutions for a secure and sustainable world. Its subsidiary, the LEADS Institute (Leadership Education and Analysis for Development and Security) promotes innovative learning and leader development.
Dr. Christman is well established in promoting enhanced US-China relations. He is Chairman of the China-California Enterprise Development Group devoted to establishing innovative commercial partnerships under the auspices of agreements with China established by California Governor Jerry Brown. He is also President of the Burlingame Foundation is an IRS approved 501 C-3 non-profit corporation established in California. It commemorates the life and work of 19th Century statesmen Anson Burlingame as a means of fostering a collaborative network of educational institutions between the United States, China and other nations throughout the world to inspire mutual trust, respect and collaboration in addressing the challenges of the 21st Century.
Dr. Christman is Chairman, Co-Founder and CEO of the Global Challenges Forum Foundation in Geneva, Switzerland, an organization of think tanks, research centers, and academic institutions contributing to the much-needed resolution of existing and future global security challenges. He guides its work through offices in: Geneva, Switzerland; Amman, Jordan; Bangalore, India; and San Luis Obispo, California. He recently launched the Global Knowledge Networking Initiative in collaboration with the UN Institute for Training and Research (UNITAR) to foster innovation in next-generation leadership development.
Dr. Christman's thirty-year career with the US Government spanned service in the Armed Forces, the US Congress, the Pentagon, the State Department, and the White House, with travel to more than fifty countries, and more than ten years of service as a US diplomat in the international community of Geneva, Switzerland. His academic career includes service as Associate Professor of Global Public Policy with the Naval Postgraduate School; Visiting Distinguished Research Fellow at the National Defense University; Adjunct Faculty of the Joint Special Operations University; Affiliated Faculty of the C4I and Cyber Center at George Mason University; Senior Fellow at Middlebury Institute of International Studies; and Visiting Scholar at Shanghai Jiao Tong University in China.
Dr. Christman has overseen strategic collaboration efforts in support of the Office of the Secretary Defense and the U.S. Joint Forces Command in collaboration with the United Nations, the North Atlantic Treaty Organization, and through bilateral agreements with Partner nations in Europe, the Middle East and Asia. He was principal architect and negotiator for multiple Secretary of Defense MOUs with foreign partners. He was awarded the Secretary of Defense Medal for Meritorious Civilian Service for his leadership in conceiving and establishing the George C. Marshall European Center for Security Studies in Garmisch, Germany. He was also principal architect of NATO's Partnership Training policies.
Dr. Christman holds a PhD in International Relations from the University of Geneva, a Masters in Public Administration from Harvard University, a Masters in International Affairs from Columbia University, and a Bachelor of Arts from Duke University. Prior to university, he served for four years on active duty in the US Army Special Forces on an A-Team trained in the delivery of man-portable nuclear weapons. He is Airborne, Ranger, and Special Forces qualified, and awarded a medal for heroism for risking his life to save others during peacetime training incident. He was later a Commissioned Officer in the Army Reserve and is the 2017 Inductee into the Duke/NCCU Army ROTC Hall of Fame.
His professional associations have included the Council on Foreign Relations, Trustee of the Marshall Foundation, the Editorial Board of the journal, "European Security," and Co-Editor of the SUNY Series on Global Challenges in the 21st Century and has a forthcoming book entitled "Global Knowledge Networking". Dr. Christman and his wife Odile celebrate forty years of marriage, with four children and one grandchild. They live in San Luis Obispo, California.